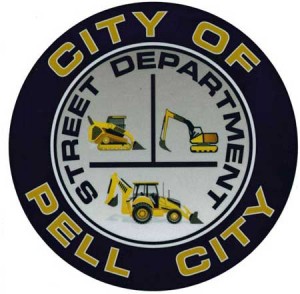 The Street Department of the City of Pell City maintains roads and drainage ditches in the City limits. The department is also responsible for traffic lights, signs, and maintains the right-of-ways. Before doing any type of work on a city street or right-of-way, you must contact the Street Department for proper permitting.
417 19th Street S
Pell City, AL 35125
Phone: (205) 884-8267
Fax: (205) 884-2500
Mailing Address
1905 1st Avenue N
Pell City, AL 35125
Pell City Cleanup Task Force
 To volunteer:
Call Councilman James McGowan at (205) 365-6974 or (205) 884-2648.
 Report Litter:
To report people who litter please call (205) 884-3333 or the anonymous tipline at (205) 338-8899.
Did you know that the fine for littering in Pell City is a minimum of $215?
Everyone deserves to live in a community that is healthy,
safe, clean and beautiful, and we all have a role to play in achieving this goal.
| | | | |
| --- | --- | --- | --- |
| | |  Pell City Street Department | |
---