HOURS OF OPERATION
May 6th thru May 26th
Closed Monday thru Wednesday
Thursday and Friday
1:00pm – 6:00pm
Saturday and Sunday
11:00am – 6:00pm
May 27th thru August 6th
Closed on Monday for maintenance
except on Holidays
Tuesday thru Saturday
9:00am – 6:00pm
Sunday
11:00am – 6:00pm
August 10th thru September 10th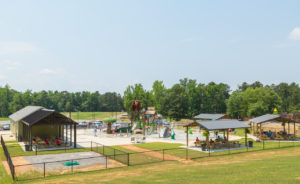 Closed Monday thru Wednesday
Thursday and Friday
1:00pm – 6:00pm
Saturday and Sunday
11:00am – 6:00pm
No Lifeguard on Duty. All persons using splash pad do so at their own risk
FEES and BOOKINGS:
Daily Admission $3.00 per child age 3 and over
Children age 2 and under admitted free
All children must be accompanied by an adult at all times
Swim diapers are required
Must be 5 years of age to play on large structures
Use of the splash pad is prohibited during severe or dangerous weather
All pavilions must be reserved at the Civic Center in advance
Groups of 10 or more patrons are required to reserve a pavilion in advance. Reservations may be made through the Pell City Parks and Recreation office (205-338-9713)
NOT ALLOWED
No running, horse play or roughhousing allowed – ZERO TOLERANCE
No food or drinks on the play surface
No glass containers permitted
No pets allowed in fenced area
No chairs allowed on the splash pad
No portable structures allowed inside the fenced area (gazebos, canopies or umbrellas)
No alcohol, tobacco, or drugs are permitted, including e-cigarette or vapor devices
No bicycles, scooters, skates or skateboards are allowed within fenced area
CONDUCT STATEMENT
Patrons must conduct themselves in a courteous, safe and family oriented manner. The use of profanity or abusive language, symbols or gestures will result in removal from the facility without refund. Failure to adhere to the posted rules may result in removal from the facility.
PAVILION RENTAL
SMALL PAVILION (2) 14 X 24
2 hr. min

Pavilion Rental Fee $25.00 per hour

Includes 5 free arm bands for splash pad
LARGE PAVILION (1) 20 X 30
2 hr. min.

Pavilion Rental Fee $50.00 per hour

Includes 10 free arm bands for splash pad
AFTER HOUR RENTAL
6:30pm – 8:30pm $500.00

This includes full use of facility and staff needed

There will be no rental of entire splash pad unless the renter has signed a rental agreement and paid in full 7 days in advance.