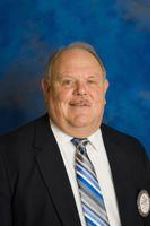 Jay Jenkins
1905 1st Avenue North
Pell City,Al 35125
Phone: 205-338-2244
Fax: 205-338-2320
Jay H. Jenkins, District 1 Council Member, was appointed to the city council in July 2012, to complete the remainder of the term of Greg Gossett, was later elected to the position for a full term, and was again re-elected to another term in 2016. He was born in Manhattan, Kansas, and lived in several states during his childhood, but has been a resident of Pell City since 1962. Jenkins graduated from Pell City High School and received a B.S. degree in Business Administration, with a minor in Economics, from Jacksonville State University. He served in the United States Army Reserve for eleven years, four years as a heavy equipment operator in an engineering battalion and seven years as a legal clerk in an Army law (JAG) detachment. During his first full term of office he completed the training hours necessary to receive the designation of "Certified Municipal Officer" through the Alabama League of Municipalities.
He was employed by the State of Alabama Department of Industrial Relations as an Employment Interviewer and Employer Relations Representative in Birmingham, and then as Manager of Alabama State Employment Service Offices in Leeds and Pell City, until his retirement after 26 years. While serving as Manager of the Pell City office, he referred applicants to all job openings with the City of Pell City and St. Clair County. He has owned and operated a small retail business, All-Pro Trophy, since 1982. Before he was elected to the city council, he was commissioned by the Mayor and Council, to build the large bronze plaque for the Senior Citizens' Building in 1995, and later in 2002, the solid bronze City seal that is currently located at the front of the City Council Chambers. Jay has always enjoyed working with and helping people and, over the years, has been actively involved in many different aspects and areas of life to include the following:
*  Past-President, Club Secretary for many years, and Pell City Rotary Club member since 1986.
*  Past Chairman and St. Clair County Literacy Council Board Member since 1999.
*  Past Treasurer and two-term board member, Greater Pell City Chamber of Commerce.
*  Past-President of the Jefferson County Chapter of the International Association of Personnel in Employment Security.
*  Past-President of the Birmingham Chapter of the Alabama State Employees Association.
*  Past-President of the former Pell City Softball Umpire Association.
*  National Indicator Society enshrinement in the Amateur Softball Association Hall of Fame in Oklahoma City, Oklahoma.
*  Competitive softball player for 41 years and umpire for 25 years.
*  Various other board and committee assignments.
*  Lifetime involvement in various types of auto racing as driver, crewmember, and fan.
*  Early life jobs include furniture truck delivery driver, construction laborer, steel steel mill worker, heavy equipment operator, and audiologist/hearing aide salesman.
Jay has lived at his residence in Eden since 1982, and is an Assistant Sunday School Director and active member of Dry Valley Baptist Church. He enjoys spending time with his daughter and son-in-law, Tracy and Jonathan Whitten, and his two grandsons.