Arts: Something for Everyone
Go see a famous musical group perform, or a traveling play that has gained national attention. Learn to paint or walk through rows of pottery, sculpture and other displays at an art show that is becoming a local tradition. Even learn to cook gourmet food, make a quilt or hear poetry read by a famous author — you can do it all in Pell City.
Pell City's thriving arts community — supported both through private funding and government support locally and through grants — is giving residents in the region the opportunity to experience aspects of the humanities rarely seen outside larger metropolitan areas.
The Pell City Center
Originally called the Center for Education and the Performing Arts (or CEPA), the Pell City Center was a collaborative project designed to give the city a state-of-the-art theater for live performances and a sports arena complex to be shared with the school system for athletics and events like graduation.
The Pell City Center has been a success far beyond what was originally envisioned for the city. The inaugural play, To Kill a Mockinbird, was a huge success — and it also brought the center its first executive director and now artistic director, Kathy McCoy.
"I have been doing community theater I think around 23 years. I formed the Mockingbird Players down in Monroeville, Ala. No one had been doing To Kill a Mockingbird there," she said.
"…That was the first play at CEPA. We brought up my old group from Monroeville to do the show. I was recruited from several people to take the job here. I wanted to move on and try new things.
"I walked into that theater and was sold. I looked at it and saw, as a director, that I would be able to do all kinds of things here. I said, 'Yes, I would love to be here.'"
And the rest has been a very successful history.
The theater has hosted sold-out show after show. Sometimes it is a play like Driving Miss Daisy, Grits: The Musical or the Wizard of Oz. Sometimes it is a famous musical group like The Platters, Three on a String or Jason Petty. Some shows are a combination of play and musical performance, often paying tribute to iconic musicians like Elvis or Frank Sinatra.
And, whether the show is being performed by a famous traveling production crew or staged by the local Pell City Players or children from the theater's drama camp, the event is a crowd-pleaser every time, enriching the lives of young and old alike.
"I think that any time you bring in culture, performing arts, it educates the community," McCoy said.
"… People come from all over to Pell City, plus you have the locals. The theater brings them all together. Whenever we have a concert or a theater production, people stay after and meet each other and talk," she said.
On top of its regular performances, the theater hosts a drama camp for children and works with local schools to help expose children in Pell City to as much of the humanities as possible.
"This will be our seventh year for drama camp. We have raised some of these kids in drama camp. They started here and now are graduating.
"We have some who started out at drama camp and went on to continue that. One student started out in the drama camp, went on to the Pell City Players and is going on to college to pursue drama," McCoy said.
Like the drama camp participants, the local acting group, the Pell City Players, are enjoying having such a high-quality facility at their disposal.
"I have a background in community theater production. When I came here in 2006, I wanted to get involved in the community and thought this was a great spot to form a community theater — we would be the Pell City Players.
"We have competed at the state level and won some awards and received recognition for several things," McCoy said.
And she expects that success to continue.
"The Pell city players have really grown too. We have 20 to 25 who are regulars. We have grown. I have grown as a director; they have grown as actors. We have done drama, mystery. Recently we did My Way, which is a musical, a difficult musical," she said.
The Pell City Players are a true community theater group, handling everything from set and costume design to other production aspects like procuring props.
"That gives you the ability to tackle just about anything — and we have, from Tennessee Williams, to Agatha Christie, a very difficult script, to musicals," McCoy said.
"It becomes inclusive because of that nuts-and-bolts approach. Not everyone wants to be out on stage. I have as many people who are not out front but who are backstage helping. That one has an eye for design; that one can build sets. One lady has a really good eye for props."
In addition to entertainment and educational uses, the Pell City Center also acts as a conference center for programs that come from all over Alabama.
"We have hosted two statewide theater conferences here for the Alabama Theater Conferences, a district-wide Rotary Convention, events for the hospital — fundraisers, one brought in more than $80,000, state board of education events, and countless others, even sports tournaments," McCoy said.
"We are unique here because we manage our space — we are sharing our space and manage the space through rentals and other entities like the cities and local governments," she said.
"It is a unique marriage" — and one that has worked well for the Center and the Pell City community.
"It had not been done anywhere. That partnership has been fruitful for us, allowing CEPA to survive while other community theaters have been closing their doors," McCoy said.
You can learn more about the Pell City Center or order event tickets on its website, www.pellcitycenter.com.
Artscape Gallery
The Artscape Gallery, going on its sixth year now, is a project of the Pell City Council of the Arts where local artists can showcase — and sell — some of their work.
A truly cooperative effort, the gallery, located in the historic downtown area, is supported and run by the participating artists.
Arts Council President Janice Entler points out that everyone has had to do their part to make the gallery a success.
"It's a cooperative gallery. We all kind of own it; we all work here. Everyone works one day a month," she said. "We took a leap of faith when we opened this. We had 14 artists who wanted to do this and did not know if we would have the money, but we have been plugging along. We always manage to keep it going."
The gallery displays all kinds of artwork, from paintings to sculpture and pottery to glasswork. The pieces are the products of both experienced professional artists and people just getting started. In fact, the gallery works with local students and beginning artists to help teach them how to work with a gallery and display their creations.
"We are working on a program to get the high school kids to display their artwork in the gallery to give those who might want to show their work, try to sell it in a gallery, an experience in what it is like to show their work," Entler said.
The gallery also promotes the arts in the community, especially working with children to teach them not only to appreciate art, but to create it, through an art camp and also during one of the Council's biggest events of the year, the Artscape Festival.
"We try to provide an art outlet for the children — get them exposed. Because arts are not as emphasized in schools and other places as much anymore, that was one of the reasons we wanted to start the art camp," Entler said. "We have had kids who started here at art camp who came back and are helpers here now."
The Artscape Festival, which does have activities for children but is mainly an art show, has grown to be a major event for the region, averaging 40 to 65 artists displaying and selling their work. The event is held in the fall, November this year, and attracts thousands of visitors.
"We have artists that come from all over the state, even from other states, to bring art to the community. That's what the Art Council is all about, promoting the arts," Entler said.
In addition to the gallery and the festival, the council and participating artists work with schools and hold other smaller art showings year round and also a variety of art classes.
"Art plays an important role in the community. We have a lot of classes here so people can become involved in the arts, have something to take home. … It lets their creative side out. And they can make something they are proud of," she said.
You can learn more about the Council of the Arts, Artscape Gallery and the Festival on its website, www.councilofthearts.org.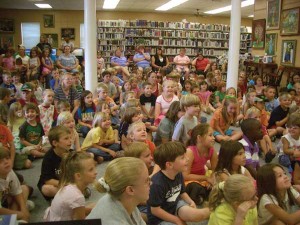 Pell City Library
Beyond theater, beyond painting, there is an almost endless range of the arts and humanities to explore — and the Pell City Public Library does more than its share to give residents the chance to do just that.
Often pairing a program or event with a literary component, the library works to promote the arts all year, with different presentations focused on different age groups.
"Quite a lot of the programs are art-based, poetry, music, even cooking and flower arranging," Library Director Danny Stewart said.
"We have even done some travel programs. Not everyone can experience traveling to Holland or Italy or other places in the world, but they experience it through the library.
"Anytime you can offer someone not only the experience of reading about Italy, but have an artist show their work about Italy and talk about it, it completes the whole picture," he said.
Most of the adult-oriented programs take place at least once a month, usually at noon on Wednesdays. "It offers them a venue that they might otherwise not experience unless they went to some place like Birmingham," Stewart said.
And while the adult programs continue to gain popularity, the library is equally dedicated to providing similar culturally broadening experiences for younger generations.
These programs are especially popular when students are out of school, during the summer or spring break.
Recently during a break in school, "younger children did a painting program, even a cooking program — how to cook a crepe. The kids got to learn to cook from a chef. Then had a clown and dog show," similar to a vaudeville performance, Stewart said.
The library also has Story Time, when children are exposed to authors and other people of interest, including civic leaders.
For older kids, the library merges the arts with reading through a teen book club where the students read a book, then watch a play or see a related movie, maybe even visit places relevant to the story.
In its efforts to promote literacy and the arts, the library works with local schools, holding writing competitions and helping with a recent art competition.
"The final judging happened here and the artwork was displayed at the library," Stewart said.
Though not a traditional art project, but certainly part of the broader scope of the humanities, the Pell City Library is home to the community oral history project. Originally conceived when Guin Robinson was mayor and with the vision of the library board, the project had many older, long-time Pell City residents record their stories and memories about days gone by in the city.
"If we did not get their stories about the community, that information would be lost forever. Only a few of those people we interviewed are still alive today," Stewart said.
The library hosts the collection of the recordings, which are also being made available online.
You can learn more about the Pell City Library and its programs at its website, www.pellcitylibrary.com.